Post Game Recap: Phoning It In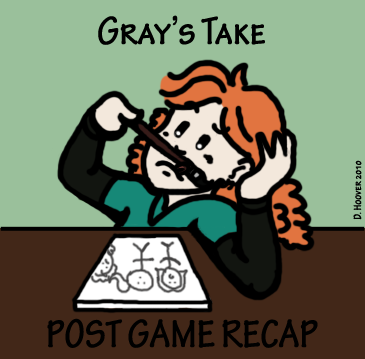 So I was going to do a comic about yesterday's abysmal performance by the Sharks but I'm currently dealing with a flare up of the tendinitis I have in my drawing arm. (Remarkably, not originally caused by drawing) So I decided against doodling. Sorry.
The Sharks basically mailed that in last night. Sadly they mailed it in with less postage than necessary, and got stuck en route for awhile while Buffalo decided to go out and score some goals. I was figuring that might be the case with this game, considering over half the team has vacation on their mind, and the rest have the Olympics. Nabby played well, which is a good sign for Team Russia, and he likely kept the Sharks from getting totally blown out. I'm not really sure anyone else in teal was on the ice with him.
I sorta felt like "why did we bother with this game?" We all pretty much knew no one's head would be in it, that everyone would have been up the night before watching the Opening Ceremonies (live. Unlike those back home), and that at least some of the team would have checked out already. I can't blame them. The Olympics have everyone distracted. I've spent most of yesterday and today watching them, and aside from Women's Hockey, I don't even really care about most of the sports they've been showing. (I am more of a summer games person) Speed skating and moguls were cool though. Of course, NBC delays the games for those of us on the West coast, which means I catch medal news via twitter and just watch the events later. It takes a bit of the suspense out of things, but at least hockey has been live. I really enjoyed watching the US women play today, even if they did skate circles around China.
So pumped for the Men's competition to start. So pumped.