Gameday! This Conflicts With Lost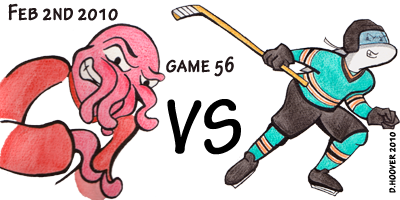 Tonight @ 7:30pm.
It's the last home game until after the break.
Consider yourself lucky if you have tickets.
The problem with this game is that it's a big bill match up of two bitter rivals that should be a hard, fast, gritty, glorious game and it's on at the same time as the Lost premiere. Ack! Thankfully, the first hour of the 3 hour (wha ?!) premier is a recap; I don't need to tune in for that. But I probably will end up missing the third, and that's a bummer. I'll likely be staying off Twitter during the game, because I'd like to watch Lost sans spoilers.
Holmstrom will be back in tonight. More accurately his butt will be back on the ice and planted in front of Nabby's face. I didn't miss him while he was gone. Since he's going to be on the ice and all, Clowe, couldja give him a look from time to time? We kinda want you to do what he does and maybe you could get some pointers or something. Just a thought.
Lots of trade craziness in the past few days.
To give a quick, non technical rundown on reaction: Not sure about Vesa being a Duck. It depends entirely on which Vesa they got.
Giggy going to the Leafs is fine by me. How did it take me this long to realize he has an accent?
Puff Pastry (my nickname for Phaneuf. His name sounds like a little puffed pastry item, what can I say?) is OUTTA HERE! Enjoy you're time in Toronto Puff Pastry! We'll miss you! (not)
Some other guys changed hands. Uhm, good for you guys.
Ok, so seriously, how much of a boot to the head is it to be told hey, look, we want to trade you because we don't think you have value on this team anymore BUT we need you in for Monday's game. So, game face now, and uh, go home and pack really quick because you're shipping out at the end of the night. Nice talking to ya, kid.
It's not that I feel badly for Jokinen, it's just that I find that funny. And seriously, a little low class. I mean, wow guys. Wow. We don't want you but oh wait we still need you? What a bag of mixed messages you just handed that guy. Considering all the effort you went through to get the guy last year, he has to be feeling a little bit miffed right about now. I would.
Interesting article on the Puff Pastry to the Leafs trade.
Canadian Twitter is koo-koo for Kotalik.
Everyone convinced Sutter is a fool, and he may well be. I remain convinced that he's up to something. The what and whys are unknown. The internets are leaning Kovalchuck. Time will tell.