Gameday! So We Meet Again, Old Friend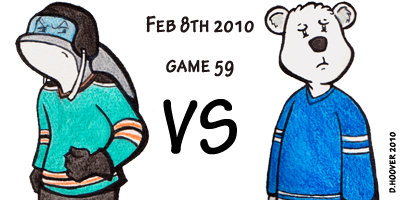 Today @4pm
East Coast games are why Tivos were invented
CSN-CA & Jamie and Dan on KFOX
Just when I start to feel comfortable playing the Leafs they go and trade for Giggy. Then they start playing better in front of him than they ever did in front of Toskala. And Giggy starts his Leafs career with two shoutouts. Great. That is what we call ridiculous timing right there. Given that the team currently has a lot of emotional drive to win now too, and rightfully so, this is not likely to be an easy game.
On paper the Sharks should be able to mow the Leafs down, or at least they should have before Giggy arrived. Oh, and Puff Pastry is here now too. Bah. Depending which Sharks team decides to show up tonight, this could be the perfect chance for the Leafs to get an upset over a top level team right before the Olympic break.

RW will have a few tricks up his sleeve, to be sure. He knows the Sharks well enough, even with all the roster changes that happened this past off season. Plus, given his snarky statements last post season, I think he's still a little miffed he was fired. Understandable.

Back on the Wallin trade for a moment. I was pondering why I had this edgy feeling about this trade when SwisherThresher (fellow commenter on FTF) went and explained my feelings rather well:
Maybe because it feels like Wallin so loved the 'Canes that he'll never truly acclimate w/ SJ, which will translate into a sub-par performance on the ice…and when the snow settles on another disappointing postseason, like 'Keyser Söze', poof – he's gone.

I've been jaded by Soupy, Moen and Billy G., among others. I can't help but feel a sense of futility regarding SJ deadline acquisitions over the past decade+, or at least in the DW era.
I truly hope it works out, and Wallin has a little 'magic left in the bottle' for the Sharks in their quest for the Cup (or at least, their first ever SCF appearance).
Once bitten, twice shy.
Speaking of Wallin, he'll be wearing number 7 and paired with Dan Boyle, according to WTC.
The Woostah Shuttle is dead. Long live the Woostah Shuttle. Dwight Helminen was called up to fill out the remaining spot on the Shelley-Stauby line. He apparently has played with Wallin before. Not sure if that's why he got called up or because he was the only guy with a low enough cap hit the Sharks were willing to give a shot to.