Gameday! Sharks v...oh crap, The Wings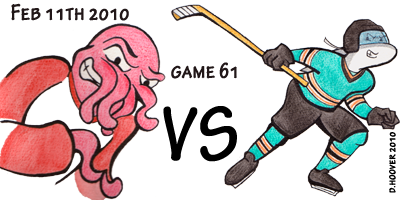 Today @ 4:30pm
NHLN-US, CSN-CA, KFOX
Hold onto your butts!
I think by now our disdain for the Red Wings has been made clear. This isn't just a fashionable sort of dislike, like the one most baseball fans have for the Yankees. It's a deep seated dislike based on that fact that the Wings are THE TEAM everyone is compared to. They're good. Really good. It drives me nuts. It doesn't matter how good your team is, they're not the Wings. Sometimes their fans get on my nerves too. Not to good fans, just the ones that are fan in name only and come into Sharks forums and crap all over everyone. They get really mean about it. And then they whine when the game gets called in a way that doesn't suit their needs. Ugh. Shut up. You're giving Wings fans a bad name and it just makes me irrationally dislike your team more.
Adding to the drama is that any game against the Wings is always a "statement game." I guess I feel like a team makes more of a statement when they lose a game that, on paper, they should have won easily. So you beat the big guys. So what? You could go on to lose the next few games afterwards. So does a game like this mean any more than any other game against the not Wings? I don't know that it does.
What I do know is that the Sharks haven't been playing their best hockey, and last night that finally bit them in the butt. Tonight isn't so much about "can they beat the Wings" as it's about "can they raise their level of play?" If they can, they have a  good chance out there tonight, despite a less than impressive record at The Joe. If they can't, well...as the infamous Todd Bertuzzi once said "it is what it is."