Gameday! On Winter Olympics Day 1. Not at all distracting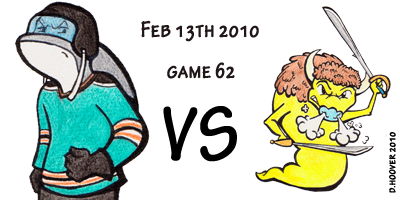 Today @ 4pm
CSN-CA
I'm sure it competes with some winter games stuff, but I live in tape delay land, so who knows.
Being that the Sharks are back east, if they watched any of the opening ceremonies last night, they saw them before I did. That's right, I'm on the same coast as the games are and NBC tape delayed them 3 hours for us. Thanks NBC. You know, Canada was smart and aired them live. Probably without the 90 minutes of talky talky before hand too. They for sure didn't get they "Hey America, Canada is North of us!" video, which I felt was rather unnecessary. Then I remembered that I paid attention in history/geography class, and not everyone did.
Once we finally got to the Openig Ceremonies, the effects were pretty damn cool. There was, as there always is, too much unnecessary singing of amazingly unoffensive songs. I'm not really sure why we had Gandalf and Satan in a canoe, but ice wizards are FTW and Satan was fiddling, so, it seemed somehow appropriate. I made the required "Devil Went Down to Georgia" reference. I think one person got it. The slam poetry guy should have been William Shatner. Just saying. For once I was not extraordinarily bored by the Parade of Nations. Well done.
Four people lighting the torch was nice. The technical difficulties suck. You spend so much time and money on this stuff and something goes wrong in front of everyone and it just makes me feel really bad for them. The torch bearers, after spending two minutes looking very nervous, (or in Gretzky's case, like he was about to kill someone), played off the lack of the fourth, um, icicle(?) well. Good recovery.
The Sharks play today at 4pm. Odds are good they won't be sitting around in major winter gear in a 70+ degree stadium. Mostly because that would melt the ice. Bermuda was sooo the only one who prepapred properly. But guys, socks AND shorts. You were just missing the sandals. Seriously, not a good look.
Patty Marleau will snowboard through time and score like 50 goals tonight, just you wait and see.