Gameday! Goc. Marcel Goc.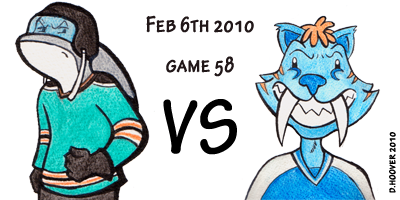 Today @ 5pm
CSN-CA & KFOX
By now, most if not all of you have heard the sad news about the death of Brendan Burke. Pension Plan Puppets has suggested that anyone wishing to make a donation to PFLAG in his honor.
Hello old friend. I see you've been having a good season out there. Got yourself a nice contract extension and everything. Things have been going pretty well for us too. Oh, I know, all those rumors about us and Chicago, but really, everything's fine. Have you heard? Marleau's got 38 goals! What? No, it's not a joke. I know no one talks about it but you know Patty. I mean, come on! yes, I know Ovi has 39, but they've been neck and neck all season. No, I don't think the C was the issue...dude, seriously? Everyone asks that. What? No, Oktoberfest was not the same without you. Saw Mark Smith downtown though. Yeah, he's still playing music. No, no, he's pretty good. Haha, yeah, I can't afford anything in that store either. Heard about that 10 round shoot out you guys had against the Coyotes. That was pretty epic, huh? Yeah, too bad about the loss. You'll get 'um next time. Huh? Oh yeah. Well, hey listen man, it's time to hit the ice for practice but I'll see you out there tonight, ok? Good talking to you.