Post Game Recap: Sharks v Habs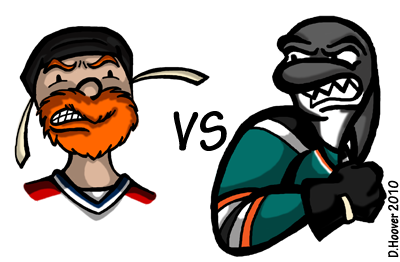 Losing a game in a an arena where wins for your team are rare at best isn't a huge deal. Losing a game after putting together what was arguably one of the best performances of the season so far is a bit of a let down though. So what is it about Les Habitants that seems to baffle the Sharks every time they take to the Bell Center's ice?
For one thing, the Habs know how to make use of their very lively boards. That's always going to be an advantage for any home team with active boards, although it's debatable as to whether or not that makes enough of a difference. (Folks always say it does at the Joe. I always thinking being at the Joe makes a difference at the Joe, but whatever)
Travel could have been a factor but Ottawa and Montreal aren't so far away from each other than traveling between the twp would have been much of a drag on energy levels. The early start may well have been. I know that your body gets used to certain routines and playing earlier could disrupt that, but even then, that doesn't fully account for how the Sharks came out fast in the first and slow to sluggish in the second and third.
Sometimes I wonder if it's the success of Josh Gorges. It's not that he was bad as a Shark per say, it's just that he wasn't good. It is quite possible that his ability to excel in Montreal caused a rift in space time that makes it very difficult, if not down right impossible, for the Sharks to win when they visit. One would hope this could be offset by the Huskins Effect, but apparently the gravitational pull of Gorges former suck is just too great. (
before I get angry letters from Habs fans, or Gorges Mom, this is all in jest.
)
The real issue is the same one the Sharks have had all (young) season long: consistency.
Forwhatever reason the Sharks have not yet been able to string together a run of wins or even steady 60 minute preformances. The whys have left everyone puzzled, but the result has been the a team that has been vying for the top spot n the west (if not thw league) the last few seasons now finds itself struggling just to get into playoff contention. The season is still young, and the chance to make up ground and gain valuable points is there. The real question is, are the Sharks ready to take them?