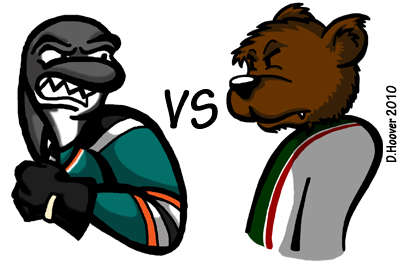 Tonight @5pm
CSNCA and 98.5 KFOXing it
Well, if "play better" doesn't sum it up, I don't know what does. Tuesday's game was enjoyable because I was able to watch it with 80 some totally nuts Sharks fans who knew all the same inside jokes I did and who nearly in unison all referred to Douglas Murray as an "Offensive Powerhouse" without any prompts. (other than Douglas Murray being an offensive powerhouse, of course) FTF's Night at the Tank was a total success and an amazing good time, even if the game decided to puke on itself violently during the 3rd. Whatever it had between the 2nd and 3rd it had too much, that's for sure.
I feel worst for Nemo, who, after playing a strong 2 periods of hockey seemingly said "eff this noise" and checked out, realizing the team in front of him either didn't or couldn't find the will to care and win. Sure, they had some chances, and too many PINGS, but it was looking bad out there all night. On the plus side, our D looked decent. On the minus side, our offense looked like my two cats had given them pointers. (BE TOTALLY NONSENSICAL AND RUN AROUND ldjkjdaskfjasklfjkfjaskflalalalalalala)
Without Nemo's effort in the first 2 periods, it may well have been 16-0*
Mina tried to get the globetrotting song going, but I think globetrotting actually requires some coordination between team members and that was sorely lacking.
That second goal was so soft it probably melted like butter when it eventually hit the back of the net. We were all pretty sure anyone of the 17,562 people in attendance could have stopped that puck.
I'm not sure the third wen in of Heater's skate, but either way, you kinda knew that was that.
When the team comes out and expresses unanimous embarrassment, you know it was a bad night.
Let's not do that again. FTF Night yes, bad games, no!
*That may be a slight exaggeration.