Gameday! Playoffs, Round 1 Day 15. The Last Day of R1
Unless the NHL decided to make this the first 8 game series ever, all of round 1 will be decided tonight. Be it Habs or Caps, it's going to be a helluva game 7.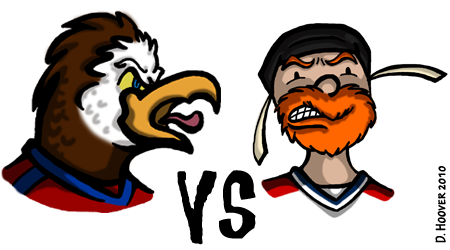 4pm Pacific/7pm Eastern
TSN, Versus, RDS
Series tied 3-3
This one's for all the pickles.
While it won't likely have the unity and sheer amount of outpouring of support last night's game 7 between the Yotes and Wings did, it will still decide who will play who in round 2 in the east, and that's a pretty big thing. (not as big as nearly the whole of the NHL fan base being behind the Yotes last night, but not too shabby either.)
While we're on the subject on 1 seeds and 8 seeds, allow to get a little something off my chest. (I promise it won't be green or viscous). I'm really over this whole "choker" thing.  The Flyers were the 7 seed and they beat the 2 seed. The Bruins were the 6th seed and they beat the 3 seed. I didn't see anything about those teams choking because they lost in round 1 despite being higher seeds. What's the difference if an 8 seed beats a 1 seed? Why is that a choke? Why isn't that just called "the playoffs" because, guess what, THAT'S WHAT IT IS. It doesn't matter what number you come in as, every team is dangerous.
I'm not going to say the Sharks played well last post season, but this whole "choke" thing is just ridiculous. And now people are eagerly awaiting a chance to (potentially) refer to the Caps as "the Sharks of the East." Whatever. That's the easy way out. It sounds good, draws hits, and causes a bit of a stir between fan bases. It also gives little to no credit to the winning team and lets you get by without having to really pick apart the series to figure out what really happened. If you want to go the route, that's fine. Your blog, your opinion, that's how this works.
Just know that I'm not buying it.