Gameday! Here We Are, Face to Face, A Couple of Silver Spoons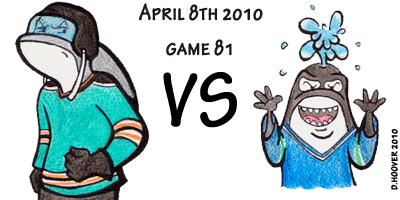 Tonight @ 7:30 pm. Holy sane time zone, Batman!
Rumor has it this game will be simulcast on Versus. Don'tcha love the end of the season?
With all the talk about 1st round match ups, I find myself more focused on just seeing the Sharks get through their next two games. They need wins to avoid playing a game of "Hot or Not" heading into the post season. A full 60 minute effort tonight would go a long way to helping the team's overall confidence (and swagger) heading into the 1st round. The fact that they're playing the Canucks tonight is even better.
For reasons that I don't think any of us understand, the Sharks HATE the Canucks, and the feelings appear to be reciprocated. Games against the Canucks are usually rough, chippy, heated, and occasionally involve Joe Thornton and a bloody nose. Tonight is the perfect night to kick in those afterburners and start playing at another level.
Let's do dis.
Go Sharks!