First, I'd like to say a sad farewell to our friend the Guidette succubus. Eliminated last night at the hands of an anthropomorphic Philly Cheesesteak (with boxing gloves. Eh, Broad Street Bullies, eh, eh, eh?) she will be missed.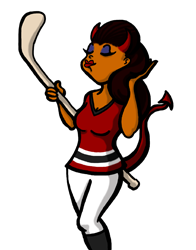 It doesn't matter who you are, a game 5 tests your nerves. Last night's game was no different. Scoreless through the first it seemed that we were once again in for yet another night of tightly played, closely scored hockey that would go to overtime. Being a tad under the weather, I wasn't sure I could handle that. I was tempted to go to bed rather than watch 3 periods of  ZOMG STREESSSSSSSS hockey. I didn't, of course, because it's playoff hockey, but oh, was I tempted. Fueled by dinner and some reassurances during the first intermission, I soldiered on. Boy, am I glad I did.
The second period was a Sharks goalapalooza! 3 goals scored, 1 by Teeth (Juicy, Bust, Prince Logan), [as an aside I plan to do a name guide for some of our newer readers/non twitter followers. And if you aren't following us on Twitter, you should be.] one by SUPER CLUTCH Joe PA!, and one by Mayo (Dwight Helminen). To see two rookies get pucks past Anderson was delightful, to say the least. The man has seemed nearly unbeatable all series, and yet, here, in the second, the Sharks managed to finally pierce his armor. The Sharks got the lead, and they held it.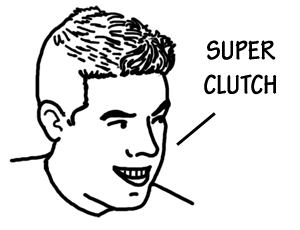 This is not to say that there weren't a few slips by the Sharks. The defense was clearly so jacked up at times they were trying too hard to play the puck and get scoring chances, which lead to some mistakes and the result was usually the puck ending up near Nabby. Nabby was up to the task though, and made 17 of his nearly 30 saves in the 3rd period. Some were doozies too.
Logan scored again in the 3rd, and Patty finally woke up and scored as well, on a power play no less! Two power play goals this game (Joe Pa also scored on the PP), whoo!!! It's about time that got going!
HTMLine was broken up for a good chunk of the night. Heater was down on line 3 with Mitchell up on line 1. With Heatley still not 100%, they needed Mitchell's speed on the first line and he did not disappoint. That kid was everywhere. ZOOM ZOOM ZOOM FLASH MITCHELL!
Clowe made sure his presence was felt, and heard. After some nasty business he was jawing at the Colorado bench, trying to get one of their boys to commit to a fight. They ignored him. Joe Pa was in on the words as well. Great to see that guy so fired up!
Semi scary moment when McLeod cross checked Murray into Nabby and Nabby's head slammed into the post of his own net. Nabby was alright but the play resulted in some rough stuff behind him. McGinn (go kid!) ended up punching Duchene. Hannan, not amused by this, came in and smushed McGinn's face in with his hand. Separated, the two were both sent off for roughing. This was somewhat of a controversial call from Colorado's point of view, as many wanted to see McGinn get 5 for fighting.
Anderson ended up getting pulled with just under 9 minutes left. I believe he'd let in 4 goals at that point on 33 shots, and Budaj, who hasn't played since like 1982, was brought in to replace him. This prompted one of followers to tweet: HEY ANDERSON!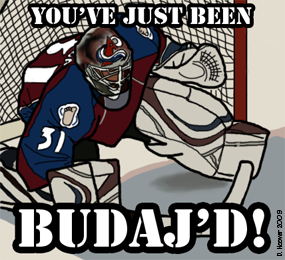 Maybe it was the orange shirts that were given out at the door, or maybe it was because his team finally dominated the Avs the way we knew they could, but the rule was lifted and Nabby was allowed to get the shut out tonight. He totally deserved it.
Sharks won the game 5-0 in front of 17, 562 happy Sharks fans (and a few unhappy Avs fans).
Next up is game 6, tomorrow, at 7pm. Hold on to your butts!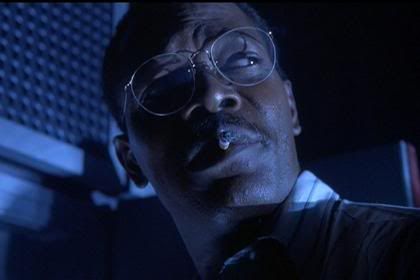 It's going to be one helluva ride!