Gamday! It's the Final Countdown!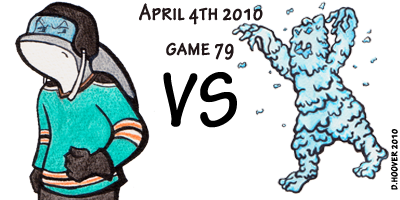 Today @ 5pm
The Avs guy is the first character i drew for this season, oh so many moons ago. He's also one of my favorites.

Four games.
Four games left in the 09-10 regular season.
How did we get here so fast? Oct-Dec is always a blur of games and emotions. Suddenly we're in Jan and we have no idea how the first part of the season went by so fast. They we hit the Olympic Break and experienced 2 amazing weeks of nearly non stop hockey (and bitching about NBC not knowing wtf they're doing). Then post Olympic slumps, then rebounds, and slumps again. Now we're in April and the season is nearly over. Part of you wishes you had just a little bit more time left, maybe a chance to go back and revisit the earlier parts of the season. Games that seem so long ago now. But those days are gone. We stand at the end of the regular season, the only known factor in this season. The Sharks will be heading to the post season, but beyond these next few games lies the great unknown. You best be ready for it.