Recappaging the Second Kings Game of the Season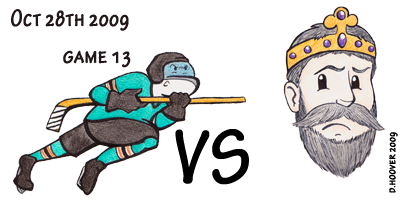 I'm going to go out on a limb here and say that winning in the 6th round of the shoot out is better than coming back from a four goal deficit only to lose.
The first period was pretty much all LA as the Sharks came out slow again. Nasty habit, that. They weren't super slow though, so I'm going to say they're improving in the slow start department. Even if it's only a little bit.
Mmmm...early penalties.
Ok, can't really complain there. Ortmeyer may have marched to the box a tad early but (if the box score is correct) there were a total of four penalties all night. 2 for the Sharks and 2 for the Kings. All in the first. Not saying the refs didn't miss some stuff, but it was missed evenly if nothing else.
All scoring took place in the second period.
First Frolov scored and we all went O_O
But then Patty scored and we all went  :D:D:D:D
There was a lot of turn the puck over and chase to get it back in the 3rd. A lot.
The Sharks tried their best to score in the waning seconds of the game, but it was not to be. So they went to OT where no one scored in the 5 minute bonus mini period.
So then they went to the shoot out.
I used to like the shoot out. It was exciting and cool when i was new to the sport, and I loved watching the goalies make the saves. Now, well, now I'm not as sure about it. Mostly because I a) am not so sure about Nabby in the shoot out and b) I'm not so sure about the Sharks, either.
Truth be told, the Sharks haven't historically been stellar at shoot outs, but the finally got some dudes who could get the job done and then those guys go and get injured. Sucks.
After taking some time to sort out who the first three shooters on each side would be,
Patty skated out to take the first shot against Quick.
Miss.
Handzus comes up to face Nabby.
Goal. (FRAK! I say. 5 hole too. dammit)
Then Danny Boyle skates out.
Save (Double Frak!)
Jack Johnson skates out. Randy points out he can win the game. Don't say such things Randy Hahn! You know you're the Bringer of Doom!
Miss (askjsksf;asf;sfl)
Heatley skates out. In my head I'm wondering why we keep using a guy who says he sucks at the shoot out in the shoot out. Why why why why why why...
Goal! (ok, maybe that's why)
Kopitar (please don't score please don't score please don't score...)
Miss! (Phew!)
Ferriero's up. He skates out like he's going to do something cool. then loses his confidence at the last second.
Save (he's just a rook)
Simmonds. I hate how good this dude is.
Save (I love you Nabby. I think this was the cool poke check save, but I may be mistaken. Either way Nabby had a cool poke check save.)
Big Joe's up! yes!
Save (Hey Joe, wtf was that? You didn't really try. You feeling ok, dude?)
Dustin Brown's turn (oh crap oh crap oh crap oh crap...)
Miss!!!!! (Epic!)
Clowe. No goal Clowe. No goal Clowe needs a goal. A game winning goal. A game winning shoot out goal. Let's go Clowe!
GOAL!!!! (fjsf;f;fsd'as;aldjskfeifrfd!!)
Stoll's up. Oh, crap burgers.
Save!!!!!!!!!!!!!!!!
AMG SHARKS WIN!!!!!!!!!!! Whooooooooooooooooooooo!!!!!!!!
And thus the night did end in happiness.