Gameday with Former Alternate Cap'n Elbows and his side kick Matt Carle!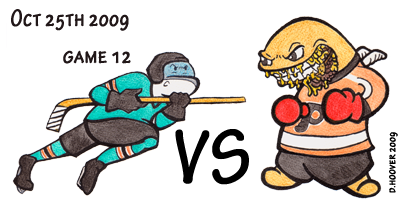 The fun kicks off today @ 4pm Sharks time.
I don't really know what else to say about this game. The Flyers are always a tough team to play against, and I don't expect anything like last years VERY BIZZARE 7-6 game. It was like trading chances out there. Last year they also met during one of the longest distance home and homes I suspect the league saw that season.
I do, however, still dislike Pronger. A lot.
The relief of knowing former alternate cap'n elbows is securely in the East and not likely to bother us much is somewhat refreshing. However, he'll be on the ice tonight, and I suspect he'll be just as annoying as he was when he was in the west.
I still plan to boo him every time he touches the puck.
Update:
WTC has some news. Looks like Seto and Vesce are out tonight but McGinn and Cogan are in. Boosh will probably be in net. Only time this year I want him to get the L instead of the W.
Pollak, as always, is the man.