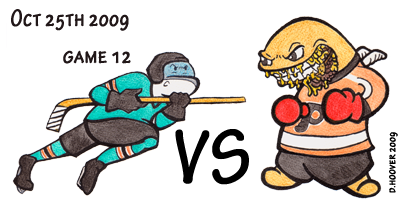 Whooooooo, what a game that was, eh?
It's funny. I read some reaction for Flyers fans and it was like we were watching two different games. They thought the pace was slow, while I thought it was quite good considering how the Sharks have been lately.
You know what I love? Scoring the first goal of the game.
You know what I love more? Manny being Manny twice in one game.
Greiss did so much better than I think the majority of us expected. Like SO MUCH BETTER. He stopped 37 shots. 37! I would not ave guessed he'd be anywhere near that solid before the game.
He did sort of flail around a bit, but he moved decently well and was downright amazing at times.
Amusingly enough, none of the Sharks who scored on Boosh were teammates of his last year. See, mixing it up can be beneficial.
What was with all those bad calls last night? How is that charging? Holding? what? It was like that for both sides.
I kinda get annoyed when one side scores on a make up call, as the Sharks did last night, but there's not much I can do about it. I would prefer the games be called well so we don't HAVE make up calls, but I know I am asking too much out of 4 dudes on the ice. It was making up for that non boarding call which was ridiculous. I think everyone but the refs knew that should have been called.
Puck Fronger. So glad that guy is out of the west.
It does pain me slightly to see Matt Carle (MATT CARLE!) paired with Pronger, but I'll manage.
Randy and Drew had fun saying Powe (POW!) all night. They are ON this season.
I noticed in the first when I'd boo Pronger the Sharks would turn the puck over. I stopped, and then they scored. I decided that was a sign and didn't boo Pronger (much) for the rest of the night.
I am not at all sure of why it is that in the one fight (wrestling match, really) Shelley got the second call for interference when there was clearly reason to give an instigator penalty to the Flyers. That was such BS.
"Why do they keep booing?"
"They're saying Boooooooosssssssshhhhhhhhhh."
It's like "Goooooooooooooooooooch" only with more b sounds and less confused JR on the bench.