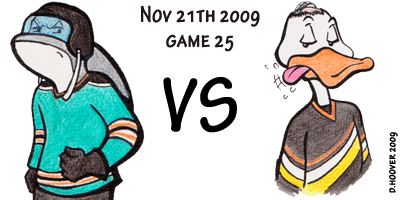 Oddly enough this will be the second Sharks Ducks game I will be missing this season. Things just seem to be working out that way. Mina will be missing it too, and unless it's on HNIC, so will Afro. Some games just aren't meant to be recapped. If I miss a third I will start to suspect some universal conspiracy.
Hope no stick fights break out.
The game starts at 7pm, another early one, so be sure to tune in on time. Look for the LARGE contingent of Sharks fans spread out throughout the building. They'll be there in force. Have fun guys.