Post Game Recap: Sharks v Pens
How awesome was that?
5 goals, 5 different scorers, goalie chased, shut out awarded.
The Sharks dominated the defending Stanley Cup Champ Penguins. It was a thing of beauty. Best home game all season, by far. Which, I suppose, isn't that surprising considering that was only home game # 6 this season.
And how clutch is this guy? I mean, seriously.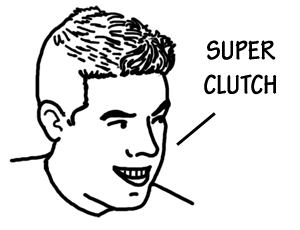 photographic inspiration provided by this awesome set of pictures
Dude comes back from a broken foot and dominates. Unreal.
This was an awesome moment:
Awesome photoshop brought to you by mymclife
Four Pens to get the puck away from one Patrick Marleau. No, seriously. FOUR PENS.
The first shift was a little shaky, but the the Sharks took over and controlled the game for the rest of the night. McGinn scored first, nudging the puck past MAF to bring the game to 1-0 just 3:27 in.
After some stagnant power play work, the recently (as in tonight) returned JOE PA! pots on at 16:27 for the second goal of the game.
The Sharks take that lead into the second.
I think this was when we started to smell something awesome cooking. But wariness was still there, cautioning us not to celebrate too soon.
1:41 into the second Dan Boyle says "You know what would be good? A goal by me. BLAMO!" He was right. It was good and it brought the Sharks up 3-0. he also did a ton of fancy edge work to stay in the zone and upright, just to make that shot. In Boyle we trust.
At this point MAF skated to the bench and Johnson came in. Can't say it was all on MAF, the Pens were falling apart by this point.
The goalie change didn't do much to help prevent the scoring as Heatley decides to tip someone shot in, though I'm not entirely sure whose it was. I know if they had 3 assists, Boyle would have had one) The box score tells me it was JOE PA and Joe Thornton who got the assists, so must have been one of theirs. That sounds right.
The Sharks take the 4 (PIZZA!) - 0 lead into the 3rd.
At this point the idea of a shut out crossed my mind, but much like commenting on traffic, I knew better and quickly shoved that thought to some dark corner and left it.
In the third, Manny decided to be Manny and puts on past Johnson, who looks deflated about midway through the attempted save. It was like he put his glove up to stop it, realize halfway there he wasn't going to get it and just said "oh, eff it!" and dropped his hand. He threw his head back and slumped into that "you have got to be kidding me" pose goalies have when the night isn't going their way.
Bill Guerin, btw, doesn't count as a former Shark. He didn't show up for enough games to count. I only mention this because Nabby robbed him at least once, maybe twice. Always enjoyable.
There was some serious pressure towards then end and I kept expecting the shut out to be lost to that one lone goal you knew the Pens probably had in them. Thankfully, Nabby had his force field up, and nothing went in, ensuring the Sharks a clean victory, unspoiled by goals against in the last, desperate seconds. It's happened before and it's slightly deflating.
This game was awesome, amazing, fantastic. Super good. Boo yah.