Gameday! Sharks v the Preds (It's not the post season, yet, is it?)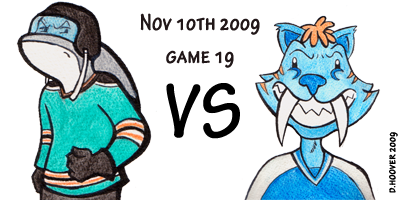 The party gets started tonight at 7:30pm Sharks time.
Ah, Nashville. My how things have changed. You have Goc and we have Nichol. You now have two goalies that annoy us instead of just one. (but pekka rinne is on my fantasy team! Whatever shall I do if he starts?! Oh yeah! I'm in no danger of winning in that league, so, I'll still be rooting for him to not win)
It's not the playoffs and yet, were playing you. It's been a few season since we couldn't just reuse our first round shirts from the previous season. And while we won't have "no more dirty hockey" signs with us, it will still feel playoff like. I don't know if other fans around the league are aware of this rivalry, but it exists.
Some things don't change, though. Sharks fans still don't like Erat, Arnott, and Tootoo (also known as "dumbdumb" thanks to JR).
What we DO like is seeing Tootoo get Staubitz'd!
That fight made me realize I had to rethink my stance on boxing. How could I love this fight and yet abhor a sport which is essentially, all about punching other dudes? It's still not a sport I chose to watch or pay for, but that fight made me realize why it is that people watch boxing. But enough about boxing, this is a hockey blog. CSNCA and KFOX have you covered tonight. Looks like NHLN-CA has it too.
You best be tuning in. Why? Because Vesce AND Seto are back, that's why!