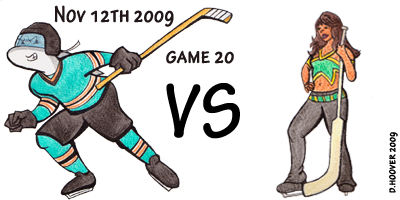 Party kicks off tonight at 7:30pm. 17, 562 will be in attendance in the main room. The rest of us will be in satellite rooms, otherwise known as our respective domiciles or perhaps a local bar, watching on TV.
You can feel like you're at the game by playing that national anthem before hand and booing the word star. Sure, it's kinda rude, but you're booing the team, not the anthem. And what Sharks fan doesn't love booing Turco?! He may be a funny man, but he has earned our ire. If by some odd twist of hockey fate, you a) also like the Stars and b) like Marty Turco when he plays against the Sharks, then just pretend Avery is still on the team and boo him instead. Or pretend someone is Pronger. You can't go wrong with either of those two options.
If you do plan to play the anthem at home, make sure to yell "Hey Dallas...YOU SUCK!" right before hand. Awkwardly close enough to the start to startle the noobs that are in attendance, but not enough to shake the vets. Timing is everything.
Go Sharks