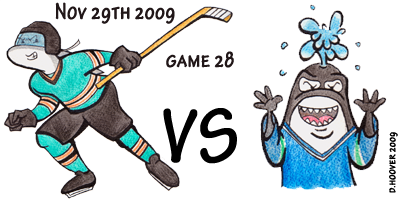 Isn't Fin terrifying? I swear he is one of the scariest mascots. Ever.
It's a well known fact that if you were send the Sedin twins to Mina, she would not want to see them dance. If you were to send them to her WITH Danny Miller, she'd take the twins and slam the door in Miller's face.
Fin would probably eat Danny Miller. I have no proof of this but there are enough pictures floating around the internet to know that he's likely to do something unexpected. Eating the in house announcer for the Sharks would be pretty unexpected. I don't think he'd eat Joe Ike. Joe Ike is too cool to eat.
So what's going to happen tonight? I wish I knew. I really have no idea what to expect from this team right now. They're capable of GREAT things, (and obviously not so great), but after a 1/4 season full of road trips and short home stints, I'm not sure what's left in the tank. Could be awesome, could be lame, could be anything in between. Either way, I'll be watching. (well, at least until Storm Chasers comes on. Sorry guys but I need to see if Sean FINALLY gets that shot. I feel so bad for that guy)
Apparently were involved in a Blog Off. We had no idea until LeaferSutherland contacted us. Which was nice of (picking a pronoun and hoping it's right) him. apparently you can vote for us here. You know, if you loved us.