Gameday! Back to back in Chi Town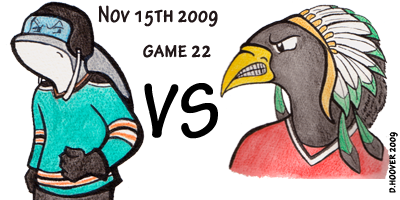 An imaginary brief pre game conversation between two imaginary people.
"Dude, Chicago's won 6 in a row at home."
"..."
"We're doomed."
So that basically sums up our general feeling about this game. It's not that the Sharks can't take the Blackhawks, it's just the they're pretty good. I mean, the Sharks are pretty good too (hello 1st the league!) but we Sharks fans are prone to bouts of severe loss of self confidence.
Despite our reticence, we WILL be watching the game and you should too. For one thing, the Hawks are fun to watch (as long as they aren't pounding the Sharks in unseen places). For another they're honoring JR in the Windy City tomorrow. We love JR. JR loved San Jose. San Jose loved JR. You get the point.
I'm still bummed I only got to meet him once for a few brief moments. I have friends who got to have lunch with him, which is just amazingly awesome. I will be forever jealous of this.
Some Fins will be at this game too. I couldn't find them in the crowd yesterday, so we'll see how I do this afternoon. Party kicks off at 4pm Sharks time. Be there.