Post Game Recap. No Clever Title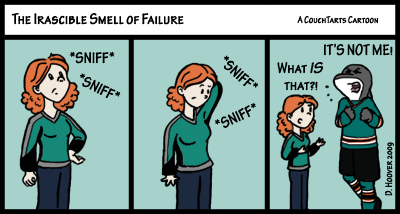 What's that stink wafting over us in Sharks land? Ah, yes, the sullen, stale stench of a five game losing streak. Every team goes through these, and none of them every look (or smell) pretty. We fans add to the cloud of wretchedness by spewing for vast amounts of bile, demanding trades, demotions, and new coaches. But the fact of the matter is, this is sports. When you get right down to it we are fans of a very well staged game of chance. You can run stats all you want, but once the puck is dropped, all bets are off. Sure the Sharks were better than MOST, (note that I did not say all), of the teams the faced over the last five games, but all that really means if that is their two rosters were to compete in some sort of paper based war, the Sharks one would win.
Be it due to injury, sickness, or a combination of both, the Sharks are in a mini slump. Feet aren't moving, no one's talking and goal scorers aren't scoring. Last season we hit this point in March. We may well be better off hitting it now. I'd love it if the Sharks would win all 82 regular season games and then breeze their way through the four rounds of playoffs to a Cup but it doesn't work like that. I don't really know if I buy that whole adversity thing, but my own experience has taught me that success tastes that much sweeter after a loss. Not that any of my sports related missteps went to the 11th round of a shoot out or were discussed at length by people afterwords, but parallels can still be drawn.
Last night's game was not pretty, but I'm more cocerned about the health of Dany Boyle than I am the lack of points. I don't think he meant to do it, maybe he did, but right at the end of the game Taylor Pyatt took a run at Boyle. Boyle went down hard and had to be helped off the ice. I was a little put out by the 'Yotes celebrating while a player was writhing in pain on the ice, but I don't think they realized Boyle was hurt. I mean, come on, it's Miller Time!It's just that when you know one of your guys is down and hurt, it kinda pisses you off to see a bunch of folks cheering and going crazy.
No word on how he's doing as of yet, aside from what Pollak has here. Going to keep my fingers crossed on that whole "not serious" bit. We need this man in games and not just because he seriously plays like 30 min a night. (He logged 29 minutes of ice time against the 'Yotes. Marleau hold second place with 23:41.)
Taylor Pyatt is now on notice.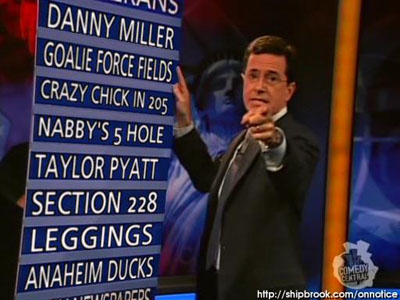 Don't say we didn't warn you.