NYE Gameday! Mom, We're Having 'Yotes for Dinner, AGAIN?!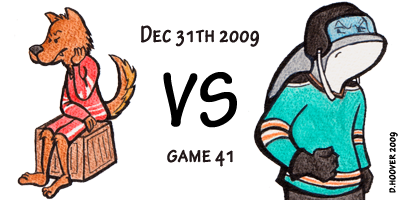 Today @ 4pm!
Watch the game then go party, but please DO NOT DRINK AND DRIVE!
We at CouchTarts would like to see all our readers get home safely and in one piece.
Ok, so the game against the Caps WAS EPIC. (TWO, count'um TWO penalty shots. asjadjad;slf/,csadk;alsd) If you missed it, find someone who DVRd it and WATCH IT NOW. It was amazing. I want to watch it again, it was THAT GOOD. I also want to recap it, but I doubt I'll have time today.
So instead, in preparation for today's game, I'll do a mini recap of the game we played against the 'Yotes two nights ago, which was also pretty damn entertaining.

The Sharks scored early in the first, thanks to Seto, which gave us hope that maybe, JUST MAYBE, they're figured out Bryzgalov and his glove of doom and we're going to be able to win this sucker in regulation. When Joe Pa got a shortie in the second, and the Sharks went up 2-0, we just KNEW they were going to win this game in regulation. It was DESTINY!
Then Prucha scored a few minutes later and the air got sucked right out of the tank and formed some small tropical storm somewhere off the coast of Africa that will likely batter some small tropical paradise come spring with the wrath of 17,562 similtanious disappointments.

After that the Sharks kinda stopped playing. Which was a bad idea because Shane Doan likes to remind people he's good by doing things like scoring goals at the end of the second to tie the game. Which is what he did. Which made it 2-2. Which was kind of ridiculous. Which then lead to a third period that saw no scoring because Nabby and Brzygalov were both playing out of their minds.
Team Russia chose wisely.
Then it went to OT. OT was NUTS. Crazy, fast and back forth super chaotic hockey action for five minutes. Chances here chances there, crossbars everywhere. A few PINGS and TINGS of the rubber biscuit hitting the cross bar and 17,562 collective mini heart attacks later, the Sharks found themselves in a shoot out.
Again.
Against Phoenix.
AGAIN.
This is seriously not a like-able trend here guys.
But Joe Pa, oh heroic maybe future Captain, my Captain Joe Pa. He stood tall and scored in OT. He was the only man to do so. Nabby saved all three shots he faced and triumphantly pumped his arm in delight as he made the final save and skated over to do congratulatory head bumps with his teammates.
My wish for tonight is that you all have very happy New Year, that all our readers make it back home safely tonight and that the Sharks finally frakking beat the Coyotes IN REGULATION this year. It would be a very nice way to mark the third anniversary of Coyote Ugly.
Winning games in regulation is awesome. Do eett!

Thank you.