Just Goofin' with Paleontology!
We have a few days before the next game, against the surprisingly good Kings of 2009 (or maybe not so surprising. This has been building up for a few years), so I figured I'd do a post about some of the goofy stuff I was chatting about on Twitter last night.
It's odd, so if you're saying to yourself, "I'm certainly not opposed to such flights of fancy, but dear me, how does this relate to the Sharks?" I have an answer for you; Joe Thornton likes woolly mammoths.
While I know mammoths and dinos weren't neighbors, it doesn't matter. As you can clearly see in the article, Joe refers to the Smithsonian Natural History Museum as "the one with all the dinosaurs and mammoths." And, as we all know, no man who likes woolly mammoths can be hating on dinos. The two just go hand in hand.
See? Totally relates.
Though it hasn't seemed very lucky, we've had a bit of a dinosaur theme going lately. I don't know why, but I can't think of a good reason why NOT. Last night I was watching some shows on Discovery about Dinosaurs. Aside from realizing how much the scientific view of them has changes since I was a wee lass, I started thinking about dinosaur culture. They were around for a considerable amount of time, they had to have some sort of social network. Any outgoing large lizard would need a place to relax, blow off steam, and cheer wildly for their favorite Jurassic era hockey team. It only makes sense.
Ignore for a moment that the Earth was quite a bit warmer when the dinos roamed and likely ice was fairly scarce everywhere but the southern polar regions of Pangaea. That sort of reality based thinking will only ruin the fun anyway.
So then I started proposing the composition of teams and leagues. How would it work with some many dinos of varying size and speed? It was decided by one of our friends on Twitter that if St. Louis and Chara can play in the same league, so can Trex and a humanish sized raptor like Deinonychus.
Even assuming we take the more fun route and make these guys all about the same size like they were in that dino sitcom in the early 90s (no, I am not joking, those of you born after 1991) certain strict rules would have to be followed. Biting and eating members of the opposng team would also be frowned upon. And evisceration would be right out. I am looking at you, Deinonychus! The league would frown upon that sort of thing. Hockey is a civilised sport, even in these uncivilised times.
Then we started discussing possible positions. Raptors, being fast, would probably make great natural centers and wingers, while larger, slower beasties would be better suited to defense, or goalie. @OdinMercer pointed our that Triceratops already comes with a face shield/mask, so he'd be a good choice in net. I suggested Stegosaurus, because of all the plates on his back. Ankylosaurus would probably make good D men or goalies as well.
As for refs, we have several option. Obviously any aforementioned dinos could do the job, but so could some flying beasties, like Pterosaurs, or very long necked sauropods like Diplodocous or a Braciasaur. Both would have the advantage of being able to get a slightly higher look at the ice. I tried to think of a good substitute term for "zebras" because those hadn't been invented yet, but nothing came to mind. I'm sure the fans of the Jurassic Hockey league would be able to come up with an approporiate nickname. Maybe some joke about tiny scavengers or something. Who knows.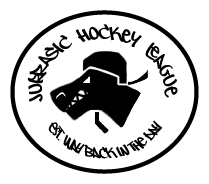 Maybe I do have too much time on my hands...