Gameday! The Return of Cheech and Milan!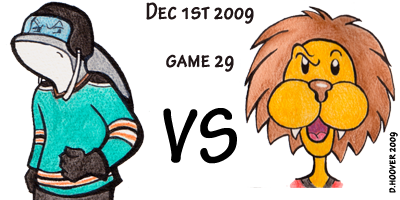 Tonight @ 7:30
Tonight's rivals: Five for Smiting
Holy balls, it's December!
That's not really relevant but it is kind freaky, so I thought I'd mention it.
Speaking of things that are both barely relevant and freaky, in researching this piece I was pointed at this awesome, yet outdated video by a friend.
Which Mina discovered begat this video
We enjoy how the Cheechoo in this video looks confused. I know I would were I him.
Which in turn begat this video, but only after the trade. (Mild language, may be NSFW)
None these folks address the real issue here, which is whether or not anyone will even be focused on the frakking game, instead of Dany Heatley. Dany Heatly, Dany Heatley, Dany Heatley... We really don't care about Dany Heatley's past drama. We had our reservations, we did. But he's been quiet, good, and is scoring for us. That's all we were asking of him. So we just don't care.
We will be happy to see Milan and Cheech again. We loved them here and were sad to see them go. We knew Cheech was on his way out but still, when he was traded, it was a sad day. (despite what the third video might tell you)
Train train, Cheechoo train, don't put your feet into the boards again. Train, train... (The aliens will come!)