Gameday! Sharks and Caps Rumble In the Downtown Jungle!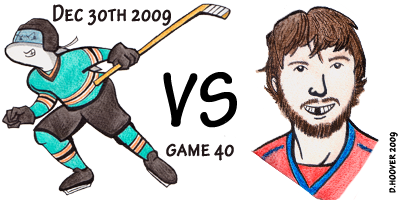 Holy balls! Can you believe we're at game 40 already?! Much like the year, the first half of the season went fast.
We've mixed it up a little today and instead of a preview, we have the results of a fantastic Q&A session with the Miz over at Fight for Old D.C., Bloguin's one stop shops for your D.C. sports news of choice. You will find our responses by clicking either of the two links above.
So, without further ado....The Miz.
Our questions come to you via our Canadian Correspondent, AfroPuff, who is a Caps fan that has since converted to Sharks fandom. (but she still loves the Caps, which we allow)

1.  A lot of people are talking about the loss of Chris Clark, but what can you tell us about the loss of Jurcina?

First of all, I feel like I should chime in a bit on Clarkie. Most people outside of the DC Area don't know a ton about him, but he was a hell of a leader, if not a hell of a player anymore. He will be missed. His production can be replaced, but you have to love a guy that's played with the heart and effort that he has demonstrated throughout his tenure with the Caps.

As for Jurcina, it's a very interesting situation. He was on an arbitration deal, and is a UFA after this season, so he was probably the Capitals' most marketable defensemen (that McPhee would deal) next to Shaone Morrisonn. However, Juice has been pretty steady and has improved his physical game over the last 9 months or so. He had the hardest shot on the team, but didn't really take full advantage of it. I would agree with the general sentiment that he was a spare part in the organization, considering that Karl Alzner has graduated to full-time NHL duty. The Caps had too many third pairing-caliber defensemen, and Juice was the odd man out.
2.  Discuss your thoughts on the new Semin deal (1 year) - should fans read more into this and the talk that you guys have 2 more years to win the cup?

It's an interesting deal from both camps, so we'll take this from both perspectives.

Semin's camp obviously didn't see the kind of money it was expecting in a long term deal. The rumor is that he turned down a hefty sum in order to take the one-year contract. One has to believe that Semin and his agent believe he can play well enough over the next year and a half (including playoffs) to command a much bigger payday after the '10-'11 season. It's a pretty big risk considering that Semin has been a bit of an enigma throughout his career, but it could pay off in the end. Semin has been one of the Caps most consistent playoff performers (when healthy), and can be a game-breaker if he avoids unnecessary offensive-zone penalties and cutesy play.

From the Capitals perspective, they've got an asset that fits well into their team chemistry. Semin is Alex Ovechkin's best friend, and helps to create one of the leagues most dangerous trios when paired with AO and Nicklas Backstrom. However, Backstrom's extremely consistent play and emergence as a legitimate goal-scorer is forcing McPhee's hand with regards to a long-term contract. Backstrom is the guy that sets up the best player in the game. He's the one that will see his big contract first. Also, Semin hasn't yet proven that he can live up to the hype that he's got the best hands in the game. Semin has been surly and off-putting to the media, and is often a whipping boy (read: scapegoat) when the Capitals are losing. McPhee made a smart decision in locking up that talent for one more season of evaluation before investing big dollars into Semin.

As for the cup window, considering the Caps' current talent level as well as deep farm system, two years seems a little small. However, you never know in the salary cap era.
3.  Do you think Mike Green should make the Canadian Olympic team?  Why or why not?

Picking for Team Canada is no easy task. You know two guys (Niedermayer and Pronger) that are long in the tooth will make a team that needs veteran leadership. Shea Weber and Dan Boyle SHOULD make the team. That leaves a stable of young guys that have the ability to do well in Vancouver, but lack in experience (Green, Seabrook, Keith, Phaneuf, Bouwmeester, Doughty). Considering Green's perceived (and exaggerated) deficiencies in his own end, I don't see him making the cut, but he could sneak in as a number seven guy. I am a bit torn on what I would like to see. It's always good to gain the experience that the Olympics can provide, but Green could probably use the extra rest. If that Caps want to win a cup this year, they're going to need him.
4.  Lately, more and more people are calling Ovie a dirty player - how do you defend his style of playing?

The guy doesn't go out and try to hurt people. His energy and passion are obvious when he celebrates his teammate's goals as enthusiastically as his own, and he brings those same elements to the physical side of his game. He's not only the best player on the team, but the best hitter, and he knows it. Many people have whined about how he goes about his hitting (stares at you Pens' fans) but these are the same people that claim that he doesn't play defense (he's second in the league at +19). They simply watch Ovi play against their team and think he hits with malice or to carry out personal vendettas. That's not the case. Ovechkin goes out on the ice with the same effort for every shift on every night, and that's how you respect his game. A guy that hits as much as he does is bound to have some marginal ones, but those hits are magnified because he's the most dynamic player in the game today.
5.  Your goalie coach (Irbe) is a Sharks favorite - can you discuss what he's added to your goalie situation?

Irbe has really done well with the young guys throughout the organization. There was a lot of concern about Semyon Varlamov's glove hand and rebound control after the Pittsburgh series last year, but Irbe has helped him make great strides in both areas. Michal Neuvirth has also improved significantly since his Calder Cup MVP performance last season. His rebound control and patience are incredible, and I think Irbe has done some good things for his positioning. Even Braden Holtby, who didn't carry the expectations as Neuvy or Varly had a great development camp under Irbe. He's currently putting up great numbers (7-1-1, 1.22, .956) down in the AHL, and it's obvious that Irbe made a difference with him in their short time together.

Now only if Arturs could find a way into Jose Theodore's head...