Gameday! I hear the desert is nice this time of year...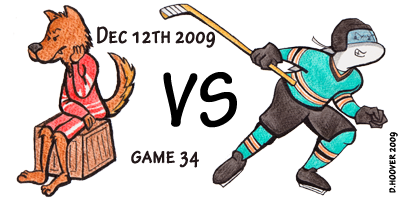 Maybe a new alignment will help. I don't know. What I do know is that today's game is a 5pm. Be there. If you're late it may go to a shoot out. No one wants that.
Last night was all bad. he first was muy excellente. Leach looked good on his first night as a Shark and Randy and Drew were in fine form. (Randy Hahn, "the ultimate delay of game") Then, at some point in the second, Drew asked who stole the hockey game. It had gone from rough back and forth wow zing boom action in the first to slow grind with really only one team doing the skating and it wasn't the Sharks.
Nabby and Turco had a hell of a goaltending duel going all night though. It was amazing. Just amazing.
That save Turco made on McGinn? Unbelievable. ( looked, and NHL.com doesn't have it in the game highlights. Real shame)
The game really shouldn't have gone to the shootout, but it did. I hate the shootout, but not for the reasons you might think. Yeah, it kinda sucks that a skills comp gets to decide the end of a (hopefully) hard fought 65 minutes of hockey, but what really annoys me about it is that stress. Last night I had to sit through 11 rounds of anticipated heart break, waiting for the moment when I could either be filled with sweet relief or collapse, sad and drained, into the floor in front of my television. My better half sat watching me, with hint of sardonic glee in his eyes, as I cheered for my team and chanted Nabby's name over and over in the hopes it's help him make a save. He's not a sports fan, so to him, the shootout is a humorous look at how people react to chance in sports. For me, it's a chance to find out what hypertension feels like.
No sir, I don't like it.
What to expect tonight then? I don't know. It's the second night of back to back games, with travel having been involved for one team and not the other. The Sharks are coming of a series of home losses. The 'Yotes are also coming off a loss, but word yesterday that Ice Edge issued a letter of intent to buy the club and keeping them in the desert has to be helping morale big time. (If it needed any help to begin with. The 'Yotes have been playing inspired this season)
Perhaps I should have suggested the Sharks win it for the mammoths instead of Randy Hahn last night, since it didn't seem to do much to inspire them.
Do it for the mammoths Joe. Do it for the mammoths.